REDUCE OVERHEAD, IMPROVE WORKFLOWS
SECURE & EFFICIENT DOCUMENT STORAGE & RETRIEVAL
Many companies still struggle to manage their paper documents, resulting in wasted time and space, misplaced information, and reduced productivity. DATAMARK, Inc. offers businesses secure and efficient document storage and retrieval outsourcing services. Our advanced storage systems ensure the safe and secure storage of your documents, while our tracking technology makes it easy to retrieve your files when you need them. With our outsourcing services, you can free up office space, reduce costs, and eliminate the need for manual record-keeping. Our experienced team provides customized solutions tailored to your unique document management needs, so you can focus on your core business activities.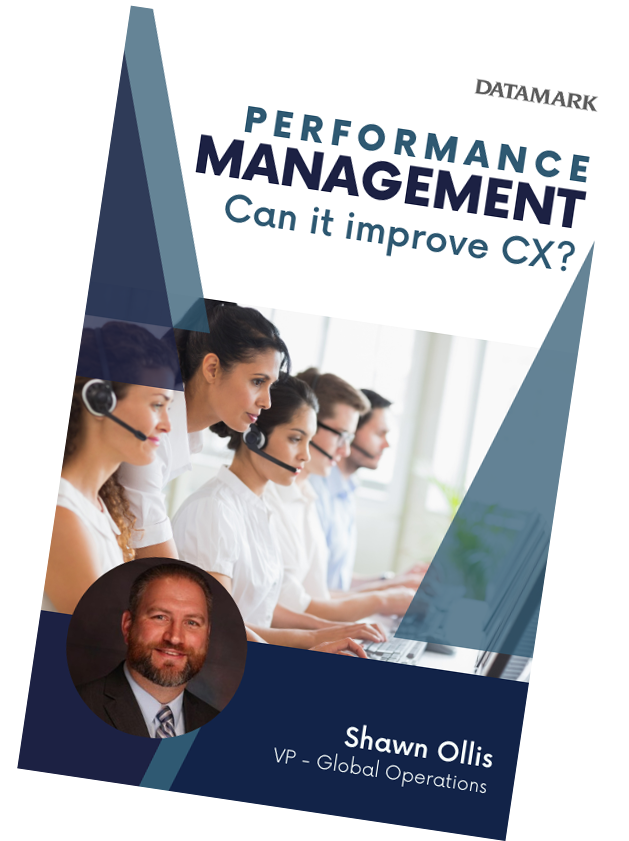 Improve Customer Service with Omnichannel Contact Centers and Performance Management
Join Randy Arrellano, VP of Sales and Marketing, and Shawn Ollis, VP of Global Operations, as they explain how DATAMARK's approach to Omnichannel Contact Centers and Performance Management leads to high-quality customer service.
HARD-COPY STORAGE & IMAGED DOCUMENTS
HARD-COPY DOCUMENT STORAGE
As part of an enterprise content management (ECM) solution, DATAMARK provides secure document storage facilities for hard-copy documents to meet your company's business and compliance requirements. DATAMARK can implement tracking systems for file boxes and documents using barcode recognition.
When the document storage period has expired per your business requirements, papers are shredded in secure facilities, and the resulting waste can be disposed of at recycling plants. This ensures a total security lockdown for sensitive documents and data, which isn't easily implemented with an in-house team.
IMAGED DOCUMENTS – ONLINE STORAGE & RETRIEVAL
DATAMARK can also implement storage and retrieval solutions for scanned and imaged documents, and any other electronic documents for industries such as healthcare and government agencies. Document metadata is indexed for search purposes and can be retrieved from a secure online archive using any web-enabled device. The web interface for retrieval of documents and data features several layers of security to ensure confidentiality of sensitive information.
The best part is that your company will not need to invest in the equipment and training necessary to begin these services. All of it is handled out-of-house and out-of-mind.
BENEFITS OF DIGITAL MAILROOM OUTSOURCING
TRANSFORM YOUR MAILROOM, STREAMLINE YOUR BUSINESS
Digital Mailroom Outsourcing offers several benefits to organizations, including improved efficiency, reduced costs, and enhanced security. By outsourcing their mailroom operations, businesses can reduce the time and resources required to handle physical mail, allowing their employees to focus on more strategic tasks. In addition, digital mailroom outsourcing provides enhanced security features such as data encryption, access control, and audit trails to ensure the confidentiality and integrity of sensitive information. This helps to reduce the risk of data breaches, which can be costly and damaging to an organization's reputation.
REMAIN COMPETITIVE
of companies plan to invest in digital mailroom solutions within the next two years.
IMPROVE EFFICIENCY
of businesses believe digitizing mailroom processes would greatly impact their operational efficiency.
REDUCE COSTS
reduction in processing costs can be achieved by businesses that apply digital mailroom solutions.
SAVE TIME
of organizations implementing digital mailroom solutions see a reduction in mail processing time.
AN INDUSTRY LEADER SINCE 1989
At DATAMARK, we are not just another BPO; we are a virtual extension of your team, providing best-in-class service to clients worldwide. We value our client relationships and are still engaged with our very first client, with whom we began working more than 30 years ago. With a diverse workforce spanning the globe, our teams possess extensive domain expertise, offering a quick and seamless ramp-up.
HOW WE HELP OUR CLIENTS
DIGITAL MAILROOM OUTSOURCING CASE STUDIES
We help Fortune 500 companies, large enterprises and government agencies address the greatest challenges to their businesses to increase their profitability as they grow. Explore the Digital Mailroom Outsourcing case studies below to learn how we've helped our customers and how we can help your business, as well.
INDUSTRIES WE SERVE
We pride ourselves on delivering exceptional Contact Center and Business Process Outsourcing solutions to a wide range of industries. Our expert team of professionals works tirelessly to ensure that the unique needs of each client are met, regardless of their sector. From healthcare and finance to telecommunications and retail, we have the expertise and experience needed to provide customized solutions that drive success. Whether it's inbound or outbound customer service, back-office support, or document management, our teams deliver world-class service to all industries.