REENGINEER YOUR BUSINESS PROCESSES
IMPROVE COST, QUALITY, OUTPUT, SPEED & SERVICE
Many companies reach a point where they realize their back-office process management solutions are outdated, inefficient, and held back by old technology and legacy software systems. There's a need to make changes in a business process or in the management of a business process. But it's hard for an organization to pause, analyze and determine the best course of action and implement change when there is day-to-day work to be done.
Business process reengineering (BPR) involves a fundamental redesign of business processes to achieve significant improvements in performance, efficiency, and cost-effectiveness. Outsourcing BPR is becoming increasingly popular among businesses because it allows them to leverage the expertise and experience of external consultants specializing in BPR. It can also free up valuable internal resources, such as time, money, and personnel, which can be redirected towards core business functions. Furthermore, outsourcing BPR can enable businesses to gain access to the latest tools and technologies, as well as best practices and industry standards. By outsourcing BPR, businesses can achieve better results more quickly and effectively than if they were to attempt the process in-house.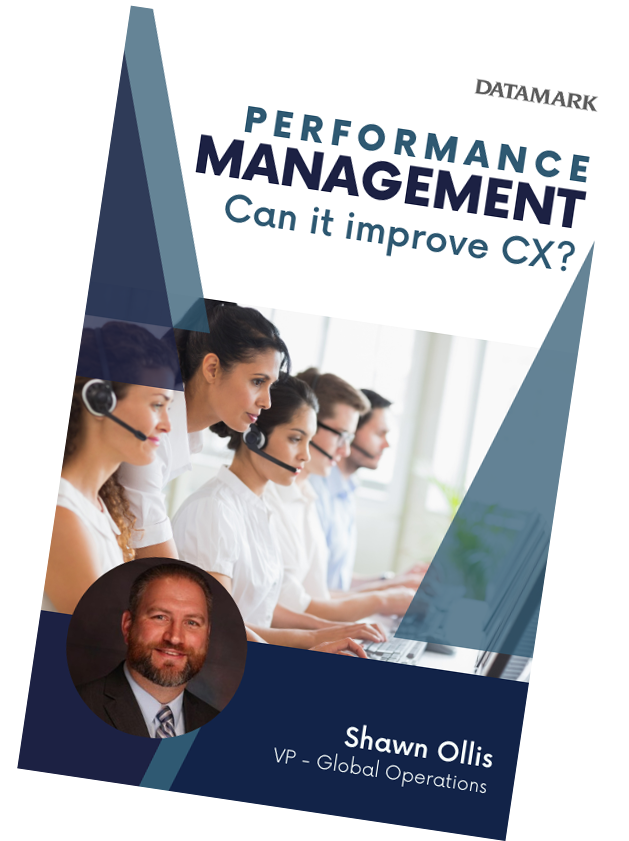 Improve Customer Service with Omnichannel Contact Centers and Performance Management
Join Randy Arrellano, VP of Sales and Marketing, and Shawn Ollis, VP of Global Operations, as they explain how DATAMARK's approach to Omnichannel Contact Centers and Performance Management leads to high-quality customer service.
ACCESS YOUR OWN REENGINEERING TEAM
OUTSOURCE NONCORE PROCESSES & FOCUS ON GROWTH
DATAMARK has a dedicated Business Process Reengineering team available to assist your organization with understanding where you are today and providing solutions to get you to where you want to be tomorrow. We can apply Lean and Six Sigma quality and efficiency methodologies to document your process(es), analyze your current state, and provide recommendations for your business to assist with process improvement. Whether you are looking to outsource or simply make internal improvements through process mapping, DATAMARK's Business Reengineering team offers a range of consulting services ranging from a simple assessment to a complete back-office process transformation to assist you with making the best decision for your organization.
BENEFITS OF BUSINESS PROCESS REENGINEERING
BOOST EFFICIENCY, REDUCE COSTS, ACHIEVE SUCCESS
Outsourcing non-core business processes to specialized service providers helps companies focus on their core competencies and strategic goals. Business Process Reengineering can also provide access to specialized expertise and technology that may be too expensive or difficult to develop in-house. Furthermore, Business Process Reengineering can enable businesses to scale their operations quickly and efficiently, allowing them to adapt to changing market conditions. Finally, Business Process Reengineering can improve customer service, leading to increased customer satisfaction and loyalty. In short, BPO can help businesses save costs, improve efficiency, and remain competitive in the marketplace, making it a smart choice for companies looking to improve their overall performance.
is the projected size of the global BPO market in 2027 due to the need for businesses to save costs.
of costs can be saved by outsourcing noncore processes to a lower cost location.
Global Services Location Index
of companies say they outsource their business processes to gain access to specialized expertise.
National Outsourcing Association
of companies plan to invest more in outsourcing to leverage technology and digital capabilities.
AN INDUSTRY LEADER SINCE 1989
At DATAMARK, we are not just another Business Process Reengineering company; we are a virtual extension of your team providing best-in-class service to clients worldwide. We value our client relationships and are still engaged with our very first client, with whom we began working more than 30 years ago. With a diverse workforce spanning the globe, our teams possess extensive domain expertise, offering a quick and seamless ramp-up.
HOW WE HELP OUR CLIENTS
BUSINESS PROCESS OUTSOURCING CASE STUDIES
We help Fortune 500 companies, large enterprises and government agencies address business challenges to increase their profitability as they grow. Explore the business process outsourcing case studies below to learn how we've helped our customers and how we can help your business, as well.
INDUSTRIES WE SERVE
We pride ourselves on delivering exceptional Contact Center and Business Process Outsourcing solutions to a wide range of industries. Our expert team of professionals works tirelessly to ensure that the unique needs of each client are met, regardless of their sector. From healthcare and finance to telecommunications and retail, we have the expertise and experience needed to provide customized solutions that drive success. Whether it's inbound or outbound customer service, back-office support, or document management, our teams deliver world-class service to all industries.