OUTSOURCING HEALTHCARE SERVICES
STREAMLINING HEALTHCARE OPERATIONS
The healthcare industry has faced unprecedented challenges in recent years. We've encountered pandemics and natural disasters, increasing demand for streamlined services, and adaptation to cutting-edge technologies. We specialize in outsourcing services and operations to enhance the customer experience for payers, providers, and their patients.
With more than 30 years of experience in supporting a variety of companies, we're committed to delivering process innovation and contact center solutions that are tailored to our customer's unique needs. Through close collaboration and a deep understanding of analytics and process re-engineering, we continuously seek out opportunities to streamline and automate healthcare processes. Our focus always remains on improving patient outcomes and engagement with payers and providers. Let us help you transform your operations and provide unparalleled customer experiences.
OUTSOURCING HEALTHCARE SERVICES LEADS TO BETTER PATIENT OUTCOMES
According to a study published in the Journal of the American Medical Association (JAMA), limited English proficiency is associated with a higher risk of preventable adverse events in hospitalized patients. The below statistic emphasizes the need for multilingual support in healthcare services and operations to improve patient safety and reduce healthcare costs associated with preventable adverse events.
Patients with limited English proficiency have a 41% higher risk of preventable adverse events, such as medication errors and hospital-acquired infections, compared to English-proficient patients. Additionally, patients with limited English proficiency had a longer length of hospital stay and higher rates of hospital readmissions."
IMPROVING PATIENT OUTCOMES
ENSURE QUALITY CARE FOR ALL
Effective multilingual support is critical in healthcare to ensure a positive patient-provider-insurer relationship, especially in today's globalized world. From customer acquisition to care to claims, tailored experiences across technologies and geographies are now expected. DATAMARK understands these challenges and is here to help – anytime, anywhere, using any technology, across any channel, and in any commonly used language.
Choosing the right outsourcing partner for healthcare operations and services is crucial in delivering an outstanding customer experience while addressing your financial challenges. DATAMARK has the domain expertise, process re-engineering, and digital capabilities to keep you ahead of the curve and compliant with HIPAA regulations. We are committed to creating solutions that meet both your needs and the needs of your customers. Don't let healthcare-related financial assistance or claims become a burden for your customers. Let DATAMARK help you streamline your healthcare operations and elevate your customer experience.
INDUSTRIES WE SERVE
We pride ourselves on delivering exceptional Contact Center and Business Process Outsourcing solutions to a wide range of industries. Our expert team of professionals works tirelessly to ensure that the unique needs of each client are met, regardless of their sector. From healthcare and finance to telecommunications and retail, we have the expertise and experience needed to provide customized solutions that drive success. Whether it's inbound or outbound customer service, back-office support, or document management, our teams deliver world-class service to all industries.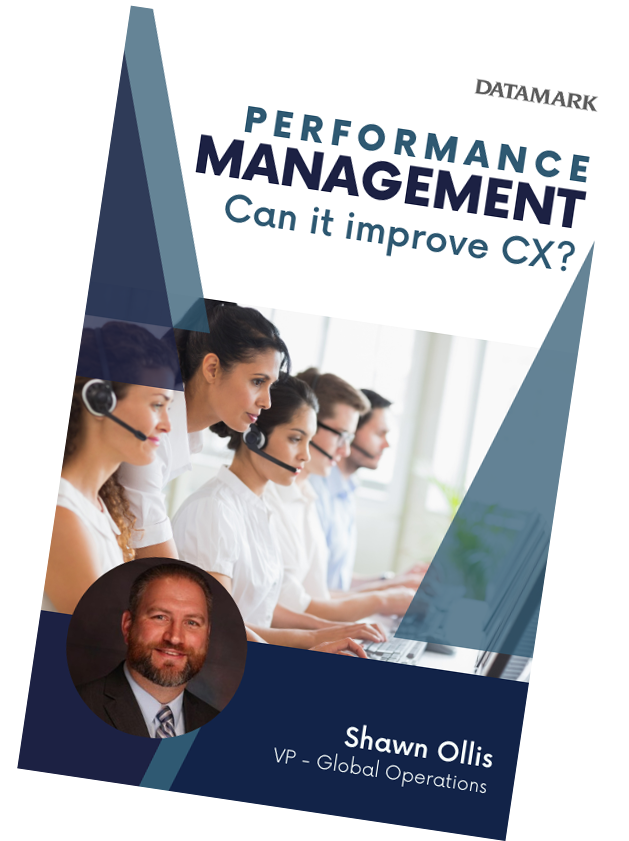 Improve Customer Service with Omnichannel Contact Centers and Performance Management
Join Randy Arrellano, VP of Sales and Marketing, and Shawn Ollis, VP of Global Operations, as they explain how DATAMARK's approach to Omnichannel Contact Centers and Performance Management leads to high-quality customer service.
HOW WE HELP OUR CLIENTS
DATAMARK CASE STUDIES
We help Fortune 500 companies, large enterprises and government agencies address the greatest challenges to their businesses to increase their profitability as they grow. Explore the Digital Mailroom Outsourcing case studies below to learn how we've helped our customers and how we can help your business, as well.