YOUR IDEAL BUSINESS LOCATION
OFFSITE, ONSITE, FARSHORE, NEARSHORE, WAH
No matter the process, it can be performed at a DATAMARK location that best suits your business model. Our rightshoring approach delivers the best balance of cost savings and business benefits. Your business process can be managed by DATAMARK in-center (at your facility); or at locations nearsite, onshore, nearshore or offshore to gain competitive advantages such as significant cost savings, 24-hour customer service and rapid turnaround time. The benefits of Offsite and Onsite Outsourcing include: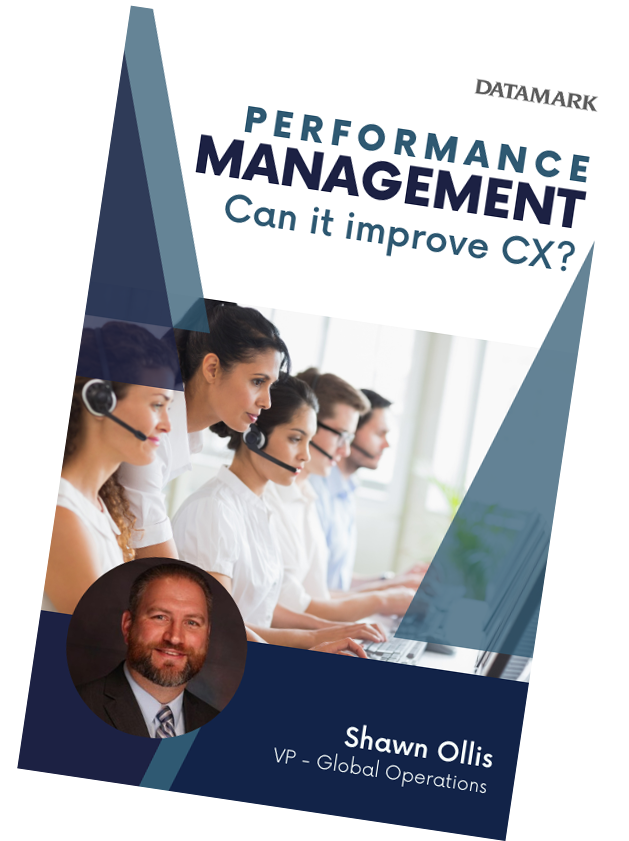 Improve Customer Service with Omnichannel Contact Centers and Performance Management
Join Randy Arrellano, VP of Sales and Marketing, and Shawn Ollis, VP of Global Operations, as they explain how DATAMARK's approach to Omnichannel Contact Centers and Performance Management leads to high-quality customer service.
OFFSITE AND ONSITE OUTSOURCING OPTIONS
BOOST EFFICIENCY, REDUCE COSTS, ACHIEVE SUCCESS
Offsite and Onsite Outsourcing Solutions provide the flexibility to customize your business model.
Offshore Outsourcing, or Offshore BPO, utilizes a third-party in an overseas destination to handle your business processes. This arrangement offers your business lower labor and facility costs, a 24-hour workforce, overnight processing, fast and secure data transmission and a highly-educated English-speaking workforce.
We have existing offshore facilities in Mumbai and Chennai, India. We can also quickly develop operations in other offshore destinations to meet your business needs.
An onsite outsourcing model, or facility-managed model, provides control for your business as DATAMARK employees manage your business processes onsite at your location.
Onsite outsourcing is an excellent choice for business processes that have certain document control and accessibility requirements.
Nearsite Outsourcing moves business processing to a location close to your facilities. This arrangement lets your business maintain visibility over processes while retaining valuable and experienced staff who can be rebadged as DATAMARK employees. You can expand your business and reallocate facility space for income-producing, core business functions.
Other onshore outsourcing models include locating your processes within the U.S., but at communities that have a lower cost of living. This type of model is sometimes referred to as rural-sourcing, rural-shoring or in-sourcing.
Nearshore Outsourcing blends the ideal benefits of onshore and offshore outsourcing. A nearshore outsourcing model places your business processes in locations adjacent to or near the U.S. – typically communities in Mexico or Canada.
DATAMARK offers nearshore business services at its Mexico processing facility, just across the border from our headquarters in El Paso, Texas. This is a differentiator for DATAMARK as the proximity with our nearshore facility offers offshore pricing with onshore visibility and ease of management. We offer highly educated and bilingual representatives in close proximity and similar time zones for better communication, travel and shipping convenience.
Onshore outsourcing reduces costs while maintaining the process visibility and accessibility necessary to meet your business requirements. DATAMARK operates facilities for on-shore business process outsourcing in the U.S. Southwest, at its headquarters city in El Paso, Texas and in San Antonio, Texas.
Potential locations for outsourced business processes are not limited to these cities. DATAMARK can implement business services at any onshore, near-shore or farshore location to meet your business requirements. Onshore Outsourcing benefits include the lowest labor costs relative to the rest of the U.S., a large workforce of educated bilingual employees, low risk of business interruptions due to natural disasters, convenient communication, travel and shipping within U.S. time zones, and close proximity to Mexico which allows for an efficient shift to a nearshore or onshore/nearshore blended outsourcing model.
AN INDUSTRY LEADER SINCE 1989
At DATAMARK, we are not just another Business Process Outsourcing Company; we are a virtual extension of your team providing best-in-class service to clients worldwide. We value our client relationships and are still engaged with our very first client, whom we began working with over 30 years ago. With a diverse workforce spanning the globe, our teams possess extensive domain expertise, offering a quick and seamless ramp-up.
HOW WE HELP OUR CLIENTS
BUSINESS PROCESS OUTSOURCING CASE STUDIES
We help Fortune 500 companies, large enterprises and government agencies address the greatest challenges to their businesses to increase their profitability as they grow. Explore the Business Process Outsourcing case studies below to learn how we've helped our customers and how we can help your business as well.
INDUSTRIES SERVED
We pride ourselves on delivering exceptional Contact Center and Business Process Outsourcing solutions to a wide range of industries. Our expert team of professionals works tirelessly to ensure that the unique needs of each client are met, regardless of their sector. From healthcare and finance to telecommunications and retail, we have the expertise and experience needed to provide customized solutions that drive success. Whether it's inbound or outbound customer service, back-office support, or document management, our capabilities deliver world-class service to all industries.
TRANSPORTATION & LOGISTICS