OUTSOURCE BETTER CUSTOMER SERVICE
EXCELLENT CX ACROSS ALL CHANNELS AT ALL TIMES
As a business owner, you need to drive sales and grow your business. However, providing excellent customer service is equally important for building a loyal customer base and achieving long-term success. Outsourcing customer service can free up time and resources to focus on core business operations while ensuring satisfied customers. Utilizing a specialized customer service outsourcing provider can be a cost-effective way to handle customer inquiries effectively by trained professionals. With offshore and near-shore customer service outsourcing solutions available, DATAMARK can offer clients 24/7 support, so they get the right assistance when they need it most, as well as these benefits: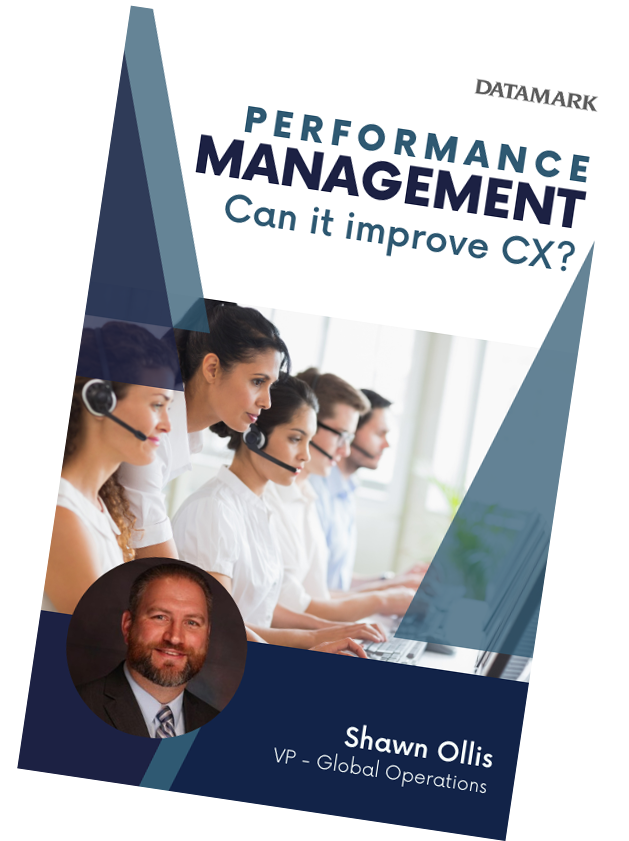 Improve Customer Service with Omnichannel Contact Centers and Performance Management
Join Randy Arrellano, VP of Sales and Marketing, and Shawn Ollis, VP of Global Operations, as they explain how DATAMARK's approach to Omnichannel Contact Centers and Performance Management leads to high-quality customer service.
OUTSOURCE TO CUSTOMER SERVICE PROFESSIONALS
DATAMARK is one of the leading customer service outsourcing companies. We know how important it is to maintain positive relationships with your customers. Whether you need customer service outsourcing for inbound or outbound processes, outsourcing customer service to DATAMARK's team of professional support agents will give you all the help you need. We will work with your company to ensure that customer needs are always first priority. Customers can connect with your business by phone, email, social media, the web, and mobile.
GLOBAL CONTACT CENTERS
BENEFITS OF OUTSOURCING TO A CONTACT CENTER
Outsourcing customer service to a contact center increases customer satisfaction by providing faster response times, multilingual support, and improved issue resolution rates. It frees up internal resources, allowing companies to focus on core operations to increase productivity and revenue growth. Leveraging the expertise and resources of a specialized provider can mean access to greater security and technology. For companies looking to expand their global footprint, contact centers can provide multilingual support to serve customers in different regions or countries. Overall, ensuring proper customer support is crucial for maintaining customer loyalty, protecting brand reputation, and driving business growth.
of customers say customer experience is an important factor in their purchasing decisions.
of operational costs can be saved by outsourcing customer service functions to a contact center.
of consumers said they are more likely to buy a product with information in their native languages.
of companies plan to invest more in outsourcing to leverage technology and digital capabilities.
CUSTOMER SERVICE LEADERS SINCE 1989
An effective customer service strategy is about more than just people answering phones. In addition to recruiting and training the best candidates, we provide our staff with targeted training for your company, its culture, and its products to ensure that our outsourced call center is truly an extension of your brand. With offshore and near-shore solutions available, DATAMARK offers 24/7 customer support solutions so your customers can get the assistance they need when they need it most. Our bilingual staff delivers support to English-speaking and Spanish-speaking customers, giving you an edge over competitors. Customer service outsourcing companies also enable you to get the real-time data and reporting needed to influence business decisions. Your team will be kept updated on everything happening in your outsourced customer service center so it can continue to deliver the results and value you need.
HOW WE HELP OUR CLIENTS
CONTACT CENTER CASE STUDIES
We help Fortune 500 companies, large enterprises, and government agencies address the greatest challenges to their businesses to increase their profitability as they grow. Explore the case studies below to learn how we've helped our customers and how we can help your business.
INDUSTRIES WE SERVE
We pride ourselves on delivering exceptional Contact Center and Business Process Outsourcing solutions to a wide range of industries. Our expert team of professionals works tirelessly to ensure that the unique needs of each client are met, regardless of their sector. From healthcare and finance to telecommunications and retail, we have the expertise and experience needed to provide customized solutions that drive success. Whether it's inbound or outbound customer service, back-office support, or document management, our teams deliver world-class service to all industries.